Introduction
Welcome to an outpost of virtual reality on the web. Virtual Reality(VR) involves the creation of 3D space you can move through and explore... It is only now, with faster systems, more memory, and highly powerful processors that the dream of virtual reality on the web is beginning to blossom.

A Little History:
Since the early days of flight simulations, many folks like myself have been intrigued by VR 3D spaces. One of the first programs to do this well, was the 1989 release of Microsoft Flight Simulator 4.0b.
With this program, not only could you fly planes though large pre-build 3D scenery areas... you could also design and build new planes... as well as airports and associated scenery objects. The scenery could include a variety of building shapes and colors, trees, roads, rivers, animated objects, and other shapes; created as a geographically anchored auxiliary file and added over the base scenery with the Aircraft and Scenery Designer Add-On. It was impressive, easy, and fun to use (be it slightly primitive when compared to today's graphics). You could fly to an airport and plunk down some buildings, cars, trees, roads, etc.... when you flew back at a later date - there they were...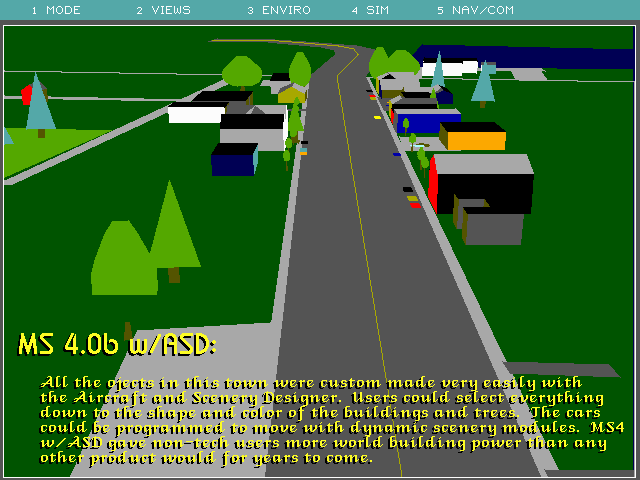 A major advancement for 3D graphics on the web developed with the creation of a new ASCII based language (or quasi-language): VRML or Virtual Reality Modeling Language (sometimes called "vermal"). VRML had its beginning in 1989 at the renowned SGI (Silicon Graphics, Inc). By late 1994, VRML 1.0 had taken shape. The instruction set continued to quickly evolve currently culminating with VRML 2.0, April 1997 Revision ( referred to as: VRML 97).
Two individuals stand tall as the fathers of VRML: Rikk Carey and Gavin Bell. Anyone who uses VRML is deeply in their debt... You can read their thorough treatment of the subject in their Addison and Wesley published 1997 release: The Annotated VRML 2.0 Reference Manual. VRML 2.0 is quite powerful... yet it and its associated products have remained rather obscure. Part of the reason for this can be traced to the mass marketing of the "cyber-space" concept, with head goggles and or sensor gloves. While future versions of VRML may support some form of enveloping 3D emersion potential, VRML 2.0's current ability is to provide interactive 3D type web based environments, which earlier could only be well handled within the confines of off-line 3D games and simulators.
VHSB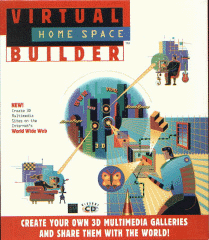 In 1995, an outstanding Windows 3.1/95 VR builder program hit the shelves known as the Virtual Home Space Builder (VHSB), produced by ParaGraph, International.
This program was developed from the initial release ver. 1.0 to ver. 2.2 in 1996. To date, nothing has matched this program for its ease of use and wealth of features and abilities. Unfortunately, like so many other great software titles - it is no longer marketed... most likely - it was simply ahead of the curve... or potential users didn't find out about it.
Below you will find a listing of its features as described on the back of its box.

Create Your Own 3D Multimedia Galleries and Share Them with The World!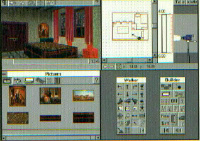 "Create spectacular 3-dimensional virtual worlds on standard windows machines with Virtual Home Space Builder. VHSB is easy enough for beginners to quickly achieve professional-looking results yet powerful enough to satisfy experts. Display digital images, tell interactive stories, produce multimedia environments-take your imagination to the limit. VHSB allows you to seamlessly integrate video, images, voice, music, and text into 3D Spaces you can explore. Using Virtual Home Space Builder's VRML (Virtual Reality Modeling Language) output capability, you can create personal 3D Web Sites and share your 3D Home Spaces with the Internet community."

Features:
Easy to Learn: The Interactive Guide and Online Help make it a breeze to master the intuitive VHSB interface.
Easy to Use: Drag and drop photos and graphics directly into 3D Spaces.
Free Models: More than 50 empty spaces provided, or you can create your own.
Free textures: Choose the color or texture of any element in the 3D Space. Hundreds of textures are included.
Enhance with text and sound: Attach text and sound to any picture or movie and link it to the World Wide Web.
Professional Finishing Touches: title screens, background music, and pre-programmed walking tours.
Free Viewer: Anyone can see your creations even if they don't own VHSB.
Internet/VRML Support: Publish your work as a 3D Web Site on the WWW.
VHSB creations involve a VRML like file called a *.MUS file and associated textures, sounds, etc. files. Additionally, you must have the VHSB viewer which allows for an amazing range of multimedia functions. MUS files can also be ported to VRML, however, in doing so, some of the advanced functionality, available within the VHSB player environment is lost.
You will find downloads of VHSB MUS files and the VHSB Player through the following link:

Go to the VHSB Files Section
---
ISB3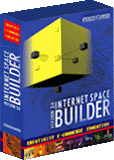 An offspring product was developed from VHSB in 1999 called: Internet Space Builder. Currently, Internet Space Builder 3.0 (ISB3) is being produced and sold by Parallel Graphics and their dealers.
ISB3 lets the user create complex 3D objects and scenes and package them for use on the web in VRML2.0 format. ISB3 is an extremely powerful, advanced, yet (like VHSB) an easy to use program design.


To view VRML files (which have a WRL extension), you require a VRML plug-in for your browser. Parallel Graphics is leading the way with this technology, providing their amazing Cortona VRML Viewer free. This product receives frequent updates and is better than ever.
The Cortona viewer is a mere 1.3 meg download. I suggest you also install the Cortona VRML 1.0 Converter (VRML10CONV.EXE) also available on the Parallel Graphics site. It will be needed to view several VRML1.0 FST converted objects in the following VRML Files Section.
Once your browser is armed with Cortona, you are ready to begin exploring VRML worlds on-line (you can save the files and explore off-line too). ISB3 created VRML2.0 files automatically launch the Cortona VRML plug-in. File size depends on the complexity of the scene and the objects in it. Some scenes may take several minutes to download into your browser, please be patient... it's worth it!
For the creative individual, artist, CAD user, graphic artist, educator, or anyone interested in the portrayal of 3D space with the confines of web technology...ISB3 is a wonderful and exciting tool. You are only limited by your imagination... To see some examples, please follow the link below:

Go to the ISB3 Files Section
---

Also, If you like VR Spaces, you will definately enjoy a visit to this new planetmic.com section:
Virtual Reality Studio - Resource
. Develop small stand alone interactive 3D applications without exhaustive C/C++ programming skills. Get in on the fun!
---